Residence 7 windows and doors are quality finished, combining modern flush appearance with unquestionable market leading design features as well as performance, all in a maintenance free material.
Available as Casement, Shaped, Bay and Bow windows, Conservatories, Orangeries, single doors, and double opening French doors - R7 has all the right choices for your ideal home.
With an impressive range of colour finishes you can create an individual design statement for your home combining hardware options that have been carefully created with you in mind, allowing you to replace your current windows and doors with a more aesthetically pleasing, thermal efficient, whilst also making you home more secure.
Flush Sash Inside and Out
With its elegantly flush sash exterior and interior giving the R7 a chic modern appearance and versatility that can be used on both contemporary new builds and traditional British homes alike.
All glass sightlines provide equal sightlines for a classic appeal. You can choose from one of five glazing beads to fully personalise your choice, either continue with the flush contemporary appearance with the Square bead or soften the look with a Decorative one.
Colour Inspiration
Residence 7 is designed to suit multiple applications and styles. With a range of colours and shades to suit different architectural periods and individual choices – individually tailored to your home.
Low Maintenance
With the sometimes-frantic pace of modern living, you require your windows and doors to look their best with the minimum of effort. Unlike timber products R7 Windows and doors require no painting, sanding, or staining.

Butt Hinge Option
With a choice of dummy butt hinges and working butt hinges as a bespoke option, you can retain the original timber window look or create a totally new feature. Working butt hinges have an added advantage of a clear opening, which can be an ideal solution for fire escape windows.

Dummy butt hinges can be paired with modern egress and friction hinges.
Ask for The Residence Collection Hardware brochure for further details on the bespoke range of Handles, Butt Hinges and Peg Stays.
Handles & Stays
You can again personalise your windows with Romatopola Hardware.
The range includes key locking Monkey Tail or Pear Drop handles with matching peg stays in nine colour options.
Personalised Internal Style
With a choice of both 28mm double glazing and 44mm triple glazing, performance comes as standard.
There are five options to choose from; 28mm Decorative, 28mm Staff, 28mm Square, 44mm Decorative & 44mm Square.

Manufacturing Techniques
Residence 7 has been designed to embrace two types of modern manufacturing techniques.
A modern welding technique fuses the joints together diagonally with a visible seam for a contemporary appearance or the mechanical joint fabrication has a more traditional look. Both offer the same quality features and benefits, only with a slight difference in appearance.
Authentic Sill Detail
To add the finishing touch the Radlington Sill range is the modern interpretation of timber sills, designed to accompany your products so you can recreate that stunning look in both modern and period homes.
Complete Bays & Corner-posts
Contemporary and traditional bay windows and orangeries are easy to create using Residence 7. Decorative or sleek square corner-posts. R7 has a complete range to suit multiple bay angles and designs.
Easy-clean Rebate
Intelligently designed with an 'easy-clean' frame rebate, open your windows or doors, and simply wipe clean, no sharp corners or deep grooves attracting dirt. There is also a variety of coloured bases, as an example; choose Eclectic Grey inside and out, you get a dark grey rebate to match
Lock & Hinge Retention
Residence 7 enjoys superior design details and screw retention reinforcements, allowing locks and hinges to be secured firmly into position. Residence 7 has also been designed to accommodate the additional weight of triple glazed units, allowing heavier duty hinges to fit and operate. 
Energy Efficient Glazing
Residence 7 is designed to accommodate 'energy efficient glazing' this term is used to describe double glazing or triple glazing used in modern windows. Residence 7 has options or 28mm double glazing or 44mm triple glazing.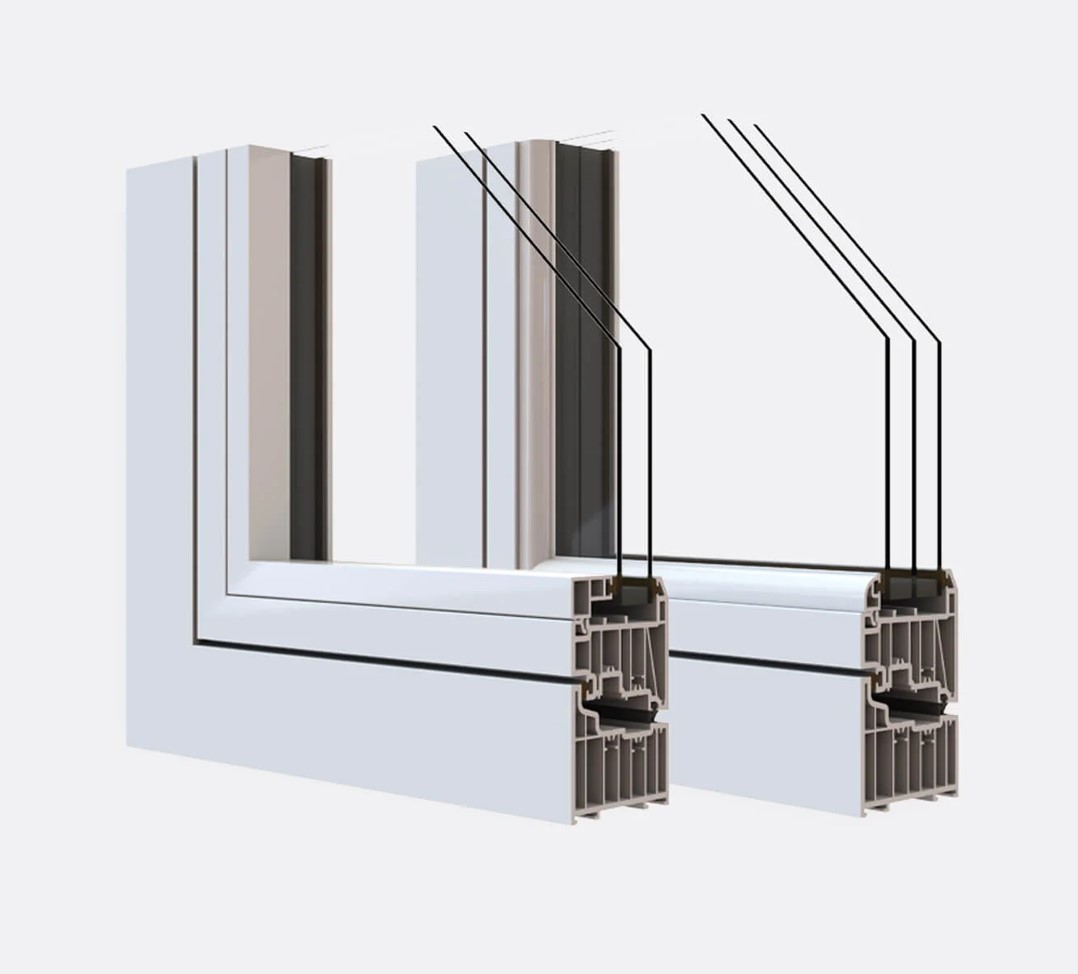 7 Chamber Design
Residence 7 has been engineered to meet current and anticipated future standards. Other window frames typically offer 3 or 5 chambers and are usually 70mm wide, R7 has 7 chambers and is 75mm wide, resulting in superior thermal, acoustic, strength and security performances.
Greener Than You Realise
PVCu is greener than you realise. It's an insulating material, keeping you cosy in the winter and cool in the summer, contributing to lower energy bills and carbon emissions. It's able to achieve a Window Energy Rating (WER) of A+ and a U-value of 0.8W/(m2.K) which is Passivhaus standard so it's future proof too. All Residence windows and doors can be fully recycled and include a recycled material section internally. As for maintenance, there's very little, no toxic paints, primers, preservatives, or fungicides to keep your windows looking fresh.
For more information call 01752 841008 and remember to "Make us 1 of your 3 Quotes" when you are looking for a quotation of works. 
CONTACT US
Please enter your details below and select the service you are interested in. A member of our team will get back to you as soon as possible. Be sure to make us one of your 3 quotes for windows, doors or conservatories in Plymouth, Devon or Cornwall.
Thanks. Your request has been sent.