There has been a lot confusion over the years regarding the difference between an orangery and a traditional conservatory. 
There are three basic types of orangery; Traditional, Modern or an Orangery Type. Within these, you will find lots of options to personalise the room to your own set of design requirements.
A Traditional Orangery is a built extension which comprises of a flat roof, with a glass large glass lantern in the middle. These builds tend to incorporate cavity walling - which is either brick, stone or block. They are rendered externally, with insulated cavities and plastered smooth internally.
Due to the weight of the construction, they require full building regulation, as well as structurally-prepared calculations for the lantern sitting on top of the flat roof before they are deemed legal.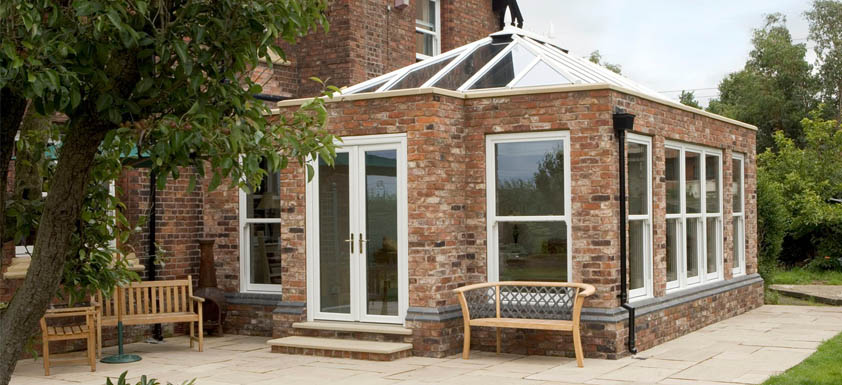 A Modern Orangery is practically the same as the above but as opposed to having a large glass lantern with a small area of flat roof, they tend to have larger area of insulated flat roof with a smaller area of glazing in the roof.
Modern flat roofs that are built to building regulation standard are incredible warm internally and with an exterior finish of GRP (fibre glass) or EPDM, they will last for years, unlike their old bitumen contemporaries. More people are choosing to have a flat glass area instead of a lantern as this becomes more widely available. Building regulations and structural calculations are still going to be required, even if you choose to have more glazing than traditional walling.
An Orangery Type is just a classic conservatory roof, with some funky upgrades that not only makes it look great, but performs thermally to a greater capacity to its original purpose. Generally, as the roof is fully glazed, it doesn't need building regulations, nor structural engineers' calculations, although there are always exceptions to the rules.
An internal insulated boxed perimeter ceiling provides the look of an orangery. The inclusion of light weight insulated columns can add enhanced thermal insulation. Cornice decorative guttering can also finish the exterior of the build making it classic or modern.
The basic concept of all of these designs is that you get an internal ceiling, which is part-plastered and part- glass. Fundamentally, this is the basic determination of what an orangery is. Of course, with all of these designs, there is so much scope to make the room how you really want it, with more variations than we have time to discuss in this quick blog.
Planning permission, and build over agreements with water boards all have to be taken into account when engaging any company to undertake works, so we do recommend you enlist professional guidance. When you are ready to discuss your project plans, we have the expertise to assist you moving forward. 
Check out our full range of orangeries.
CONTACT US
Please enter your details below and select the service you are interested in. A member of our team will get back to you as soon as possible. Be sure to make us one of your 3 quotes for windows, doors or conservatories in Plymouth, Devon or Cornwall.
Thanks. Your request has been sent.